Welcome to Our Citizen Canine Academy Puppy and Dog Training Program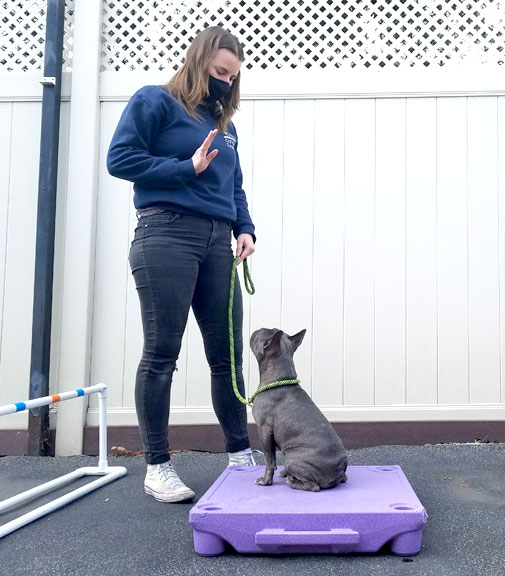 We are committed to enhancing the relationship between pet parents and their dogs which is why we created Citizen Canine Academy.
We believe living with your puppy or dog should be a rewarding experience, not a frustrating one! Our positive reward-based training teaches fundamentals, impulse control, basic dog obedience and social skills. Your dog is socialized to various people, dogs and environmental stimuli.
Citizen Canine Academy offers a perfect hybrid of training and daycare. Your dog will work one-on one with our training team to learn social fundamentals, basic skills, manners, and loose leash walking. Training is throughout the day divided into several sessions. In addition to training time there is monitored social playtime, and rest time. 
Day training and play is customized to meet your goals and your dogs needs.
Puppy and Dog Training Options at Citizen Canine Academy
Citizen Canine Academy 1 Training Program
Level one is designed for puppies 16 weeks to 8 months. Often referred to as Puppy Kindergarten, Level One focuses on teaching basic pet obedience, impulse control, recall, veterinary and grooming handling. This hybrid of training and daycare is offered for four or five days a week for 4 weeks. Learn more
Citizen Canine Academy 2 Training Program 
Level two, designed for dogs of all ages, builds on Level One skills.  Academy Level 2 brings training to the next level by adding distance, distraction, and duration to previously trained cues. Level 2 indtroduces advanced leash skills such as heeling and place.   A hybrid of training and daycare, Level 2 is offered four or five days a week for 4 weeks.  Learn more
Citizen Canine Academy Manners Refresher is designed to help your puppy or dog brush-up on skills they may be a little "rusty" on. Take advantage of your dogs daycare or boarding stay to re-introduce manners, or basic obedience skills. Manners Refresher training can be added to any daycare or overnight stay. Our training team will work privately with your dog and focus brushing up their skills. Look for more information on our Academy pages.